Liquid Natural Gas, Fuel Savings Conversions for Mine Haul Trucks

Introducing the EVO-MT® LNG Conversion System for Mine Haul Trucks - Available Now!
The first natural gas conversion solution for large mine haul trucks is available now. The EVO-MT® System is a fully integrated, field installed system including onboard liquid natural gas fuel storage and all required hardware for conversion to an LNG plus diesel operation. GFS Corp currently offers our proven EVO-MT® Systems that are specifically designed to convert the Caterpillar 777B and C, the Caterpillar 793B, C and D, Caterpillar 785 B,C and D, as well as Komatsu 830 DC/AC and Komatsu 930E haul trucks to a natural gas plus diesel, or NG+D® operation. Systems for additional truck models are under development and will be announced soon.
Significant Fuel Cost Savings
The EVO-MT® System enables operators of mine haul trucks to substantially reduce operational costs and improve sustainability by substituting diesel fuel with lower cost, cleaner burning natural gas. The EVO-MT® System is comprised of patented and proprietary technologies that allow haul trucks to safely operate on gas percentages that represent a substantial portion of their total fuel requirement. The EVO-MT® System has been designed around an LNG on-board storage capacity equivalent to 50% of the normal diesel fuel consumed over a single shift of operation. Diesel Displacement Rate (DDR) will vary according to the specific haul profile and duty cycle of the truck. Typical DDR for most haul profiles ranges between 35% and 50%. Trucks converted to LNG + diesel operation exhibit diesel-like performance in such critical areas as power, response and efficiency.
Improve Diesel Emissions
With a lower carbon to hydrogen ratio (as compared to diesel fuel), natural gas allows for improved engine emissions, including decreases in particulate matter. This is particularly important as the UN Health agency classifies diesel engine exhaust as 'carcinogenic to humans'. Significant reductions in nitrogen oxides and sulfur oxides are also seen. In addition, by using locally (or regionally) processed LNG in place of imported diesel fuel, mine customers can significantly decrease the overall carbon footprint of their operation (well to wheel) and improve the overall sustainability of their operation. For those operator's wishing to gain maximum reduction in green house gas emissions, GFS offers diesel oxidation catalyst that are a bolt on, direct replacement for the truck's OEM mufflers.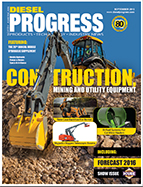 EVO-MT® featured in the
September issue of
Diesel Progress
Read the full story here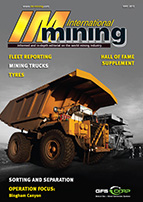 EVO-MT® featured on the
cover of the May Issue of
International Mining!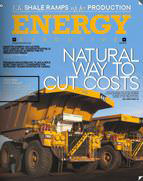 GFS makes the cover of
Energy Executive Magazine! Read the full story starting
on page 36 here