Real Time Monitoring of Critical Engine and NG+D™ System Parameters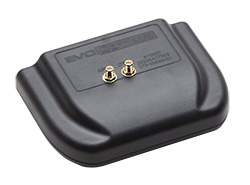 EVO Connect™ Telematics Transmitter
The EVO-Connect telematics system offers state of the art, real time engine and NG+D™ System monitoring / data logging at an affordable price. Provided as standard equipment on all of our EVO-MT® Systems and as an option with EVO-SP® Systems, EVO-Connect™ records all engine parameters and bi-fuel system parameters / status to a secured server via cellular or ethernet connection. The system can provide email or text notifications based on the users pre-set parameters. Customizable reports can also be automatically generated and emailed on a regular schedule.
With EVO-Connect, not only can you monitor key engine health parameters, you can also see, in real time, gas states, alarm states and sensor fault codes allowing you to continuously monitor the performance of your NG+D™ System.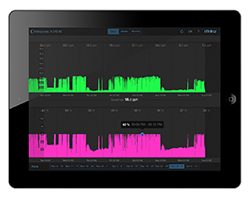 Apple i-Pad Application
Data is easily viewed on an Apple i-Pad by downloading a free application from the Apple app store and logging in with a secure username and password. Data resolution is provided in one minute intervals. User friendly and easy to navigate, unlimited historical data available and is automatically updated in real time. The user can easily view data in detail, or display longer time periods to understand trends. The NG+D™ System provides Gas State and Sensor Fault codes in order to quickly access the status of the system and diagnose problems remotely allowing service technicians to prepare for maintenance events before going out to the asset.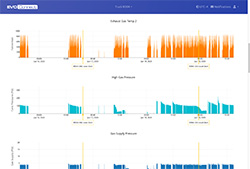 Web Portal
A web portal option is also available, best viewed using the Google Chrome browser on any internet connected device. The same data is available with a somewhat different user interface. Real time and historic data can be viewed as it can on the iPad. In the web portal data can easily be downloaded and viewed as a .csv file.